Here are a few we can share.
---
5 years. No Theft.
I ordered some Penta Plus hardware from you a little over 5 years ago, and needless to say it has not been tampered with or have any components been stolen. And I have to attribute that to your incredibly secure fasteners.
Thank you!!
Grant Johnston
Emagination Engineering
---
I did my research.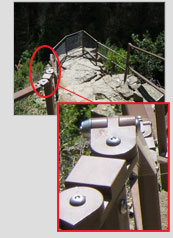 We have over 1200 penta nuts involved in our project. Penta nuts are by far the best quality security nut on the market to date. Believe me I did my research! We are very satisfied and thank you again for the customer service and all your help making our project successful. Should we land another project that requires security fasteners Bryce Fastener Inc will be the first people I contact.
Kirk McGraw
PM/Estimator
Cutting Edge Steel
---
Perfect for solar panels.
Sun Light & Power regularly includes Customized Bryce Security Hardware in our Project Proposals and RFP proposed project solutions. Installing solar panels is meant to be a long term solution. Indeed, there are very few other products in this era of "planned obsolescence" that can genuinely be expected to perform and provide significant value for 20 to 30 years. It is imperative that our customers have peace of mind that their solar panels are safe from theft especially when they are mounted in easily accessible locations such as on carports. We have installed customized Bryce locking fasteners on several projects as a cost effective and high quality preventive measure.
Kim Pedley
Sun Light and Power
---
Easy to retrofit in place of standard wing nuts.
I purchased security nuts from you to secure my home while I am away. I live in a hurricane zone and have metal removable shutters which I install while away, however it is an easy job for a burglar to remove the wingnuts that are supplied, break into the home and steal items. So I found your security nuts and place one on each end of the panels.
Now nobody can remove the panels and break in. Problem solved!!
Don Amesbury
---
Metric sizing in odd lengths.
I'm Ken from Krafftkare Autmotive Inc. in Bellwood, IL. I run a automotive and light truck repair shop. One of my fleet accounts has ford vans, and they wanted me to find a tamperproof bolt for the side door hinges. I searched and called all the local places in my area, but could not find a thing. Then the search on the internet. The problem was that I needed a metric bolt (8mm). I ran across your web site. I called, and was taken care of promptly. I was even able to get the quantity I needed in the penta plus. My customer was thrilled and loves the product. Thanks again for the service.
Ken Dornacher
Krafftkare Automotive Inc.
---
When Bryce security screws are in place, we have zero theft.
Total thefts of projectors properly secured with Bryce screws at Capital University so far: 0 and counting... We've lost two classroom computers and three flat-screen monitors in the last month. Trouble is, they don't have a bracket I can secure them to, so they just have cables and padlocks, which get cut... I've had evidence of three attempted projector thefts recently, but the perp success rate is 0% when the Bryce screws are in place. And yes, I do recommend Bryce fasteners to anyone who cares.
Dave Althoff, Jr.
Capital University
---
Theft has stopped completely and saved our University $1,500 for $.50 worth of screws.
We recently had a projector reported as having a problem. When the technician got to it he found that it needed a filter cleaning but he also found that all of the mount hold-down screws were missing. The only thing keeping the projector from the back seat of someone's car were the two extra Bryce Fastener screws that we added based on the MIT screw change pattern that you folks made available. Thanks for helping us save $1500 with $.50 worth of screws.
Steven Douglas, Media Engineer
Central Washington University
---
Better torquing ability.
Torqued as specified, I broke 3 different screw driver tips and never budged the bolt (Penta-Plus).
Michael J. Mayo
NuLink
---
Best security solution for pull box applications.
Our customers have had zero theft since installing your penta nuts on all in-ground pull boxes.
Diana Lindsay
---
Hesitant to purchase at first, now I wish I bought Key-Rex sooner.
I had finally purchased after about a year of thinking about it and I use them like mad. I am very happy with my registered Rex head screws and wish that I could purchase more sizes and types, which I will eventually do.
Chad Haas
Haas Technologies
---
Quick lead time and good customer service 'saved our bacon'!
I just wanted to say thank you for your time and effort in helping us out with our military program. Your assistance and the speed with which we received our order really 'saved our bacon', and we sure appreciate the level of service we received.
Christopher Moore
Senior Engineer, Technology Development Practice Exponent, Inc.
---
Still no theft after all these years.
I can't remember how long ago we bought a bunch of screws, but the number of data projectors that have been stolen from our campus while properly secured with Bryce fasteners is still 0.
Dave Althoff, Jr.
Capital University
Cheaper and more effective than security cameras.
I looked at video cameras or painting the panels but I figured paint could be removed or cables cut on the video camera. The Penta Nut would really slow down the thief when having to put up a tall ladder and spend a lot of time messing with every single screw on the mounting system
Carlton Haas
Energy Evolve Systems, Inc.