Unique Fastener Orders Causing Longer than Normal Lead Times
May 10, 2021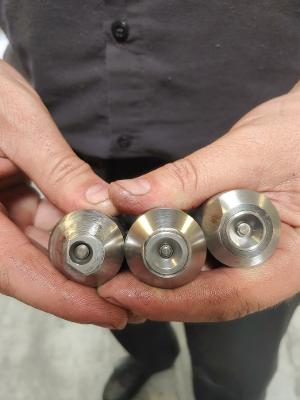 The fastener industry in general is slammed causing longer than normal lead times. Even though Bryce Fastener manufactures high security screws in smaller quantities, we're no exception. Our lead times are currently 8 -10 weeks out!
We were fortunate to have multiple unique projects going on at the same time. However, right as we needed everything to run smoothly, one of our CNC machines stopped working plus a heat treater went down. We're working overtime, had an expert flown into Phoenix to fix our machines, and hopefully, we'll caught up by June.
One of our unique projects was an order that fell outside our standard operating procedure requiring us to create all new specs. Our machinists were tasked with the challenge to put the same Key-Rex® drive into 11 different fastener sizes. The fasteners ranged from a M5x10 up to an M8x50. Some of the fasteners had non-standard diameters, lengths, and oversized washer heads. Big John and Kenny made new upsets for every size that took some guessing along each stage. Anyone who knows how cold heading machines work can attest to the big "Atta Boy" our machinists deserve for pulling this off.